We have broken down the sections of the bill below to help you understand your bill and the billing process.
We have gone through the bill to help you better understand what each section means, and what you need to do next. We recommend having your bill on hand so you can compare it to the examples below. If you need a copy of your bill, you can access it in MITPay.
Current charges
Charges are costs that you owe to MIT. This includes things like tuition, fees, health insurance, housing (if living on campus), dining, TechCASH, and any other expenses that you incur during the semester. All of your current charges will be added up and displayed as "CURRENT BILLED BALANCE."
Memoed financial aid⁠01

Memoed is simply another way of describing anticipated/expected aid.
This section of your bill displays your anticipated financial aid, which is applied to (or subtracted from) your total charges. This section includes things like your MIT Scholarship, any outside scholarships, grants, and loans. All of your expected financial aid will be added up and displayed as "MEMO FINAID BALANCE." This means that we expect to receive this financial aid money, but it has not been formally paid yet. Once the financial aid money has been officially paid, it will be displayed under "CURRENT PAYMENTS" (see next section).
Please note: Those who opt to sign up for payment plans will not see the payment plan amount reflected as memoed/anticipated credits. They will only see the payments applied on their bill after they have been officially paid.
Current payments
Once you officially receive your financial aid payment, it will show up on your bill under "CURRENT PAYMENTS" as shown below. If you are on a payment plan, your payments will also show up in this section after you have paid them.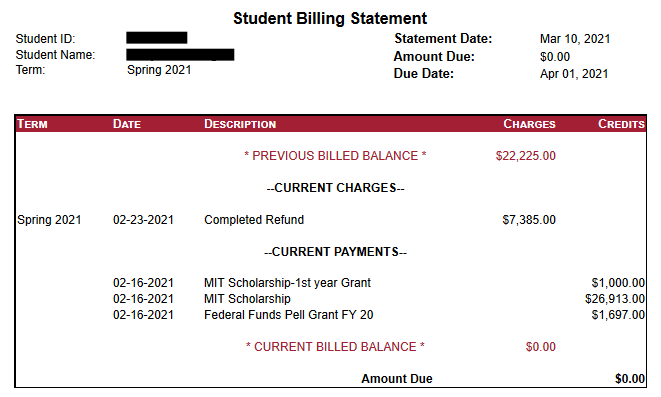 Previous billed balance
Before your current charges and financial aid, there may be a previous billed balance row displayed. This refers to any money that you either owe or are owed from previous bills. So if you have an outstanding balance that you have not yet paid, it will appear under the charges column of your previous billed balance. Similarly, if you have a credit on your account, it will appear under the credits column of your previous billed balance.
The amount in your previously billed balance row will be applied to your bill. So if you owe money (displayed in the charges column), that amount will be added to your bill, and if you are owed money (displayed in the credits column), that amount will be subtracted from your bill.
Amount due
The end of your bill will display the amount due. This number is what is left over after your financial aid is applied to all charges on your bill. If you have any amounts in the "previous billed balance" section of your bill, those are also included when calculating the amount due.
   CURRENT CHARGES
– MEMOED FINANCIAL AID/CURRENT PAYMENTS
= AMOUNT DUE
Credits and refunds
If your Amount Due is negative, it means that your financial aid covers more than 100% of what you owe, and that you are owed money from MIT.
With a credit, you have two options:
You can take no action, and the credit will be applied to your next bill.
You can request a refund, and have the credit sent to your bank account.
Before applying for a refund, please check your balance on MITPay to confirm that there haven't been any updates. Your bill is a snapshot of your account each month, but sometimes if financial aid is received after the bill date, you will have an updated account balance that is different from the one shown on your billing statement.
On MITPay, your balance will be displayed in the middle of the landing page, as shown below.

Questions?
If you have any questions about your billing statement, our customer service counselors are always available to help. Counselors are assigned by last name, and you can contact them using the information on our contact page.
Memoed is simply another way of describing anticipated/expected aid.⁠

back to text

↑